Agri-Tourism Projects
Find this page at:
go.ncsu.edu/readext?365834
2017 PROJECTS
Johnston County, Agents Brandon Parker and Tim Britton
Joshua and April Phillips from Kenly will use the grant funds to build an animal barn and expand their livestock for their agritourism business on Sonlight Farms.
Wayne County,Agent Jennifer Strickland
Emily Odom and her husband from Goldsboro operate an agritourism farm that produces strawberries in the spring, sunflowers and a CSA in the summer and a corn maze in the fall. With the grant funds they plan to build a better packing facility with a walk in cooler.
2015 GRANT PROJECTS
Martin County, Extension County Director Al Cochran
Josh Roberson, of Bethel began to diversify away from tobacco several years ago when they opened Carolina Country Fresh, retail farm market. They turned one tobacco field into a 12 acre corn maze, and with the grant funds they plan to expand their produce production. Country Fresh Market is located at Exit 502 off of Hwy 64.
Guilford County, Agent John Ivey
Hickory Creek Farm in Greensboro is a NC Certified Century Farm Family. Last year, Kevin Gray planted old tobacco fields with Christmas trees for a future choose-and-cut operation. He plans to use the grant funds to build a greenhouse for growing poinsettias. He hopes that one day his farm will be a one-stop location for NC grown farm products for the holiday season.
Greene County, Agent Eve HoneyCutt
The Lewis family, of Walstonburg represents the best of the past and the future. The Lewis family will use their grant funds to establish the Growing Minds Educational Barn next to the Lewis Creek Market. The rustic barn will have hands-on exhibits where family shoppers can learn about farm life and nutrition. The Lewis Creek Market is located at the intersection of Hwy 264 Alt. and Lewis Store Road.
Greene County, Agent Roy Thagard
Michelle Tingine, of Snow Hill wants to offer her customers a little something extra when they visit the family farm produce stand. With her grant funds she plans to add some kid friendly recreational activities and sweet treats grown on the farm. Creekside Fresh Pickings is located off Contentnea Creek.
Greene County, Agent Eve HoneyCutt
Porter Farm in Snow Hill gets many requests from schools and other groups interested in visiting the farm and learning more about farm life. With the grant award they plan to expand their roadside stand with fun recreational activities and increase their acreage of strawberries and pumpkins.
Forsyth County, Stokes County Director Debbie Cox and Agent Randy Fulk
NOMAD Farms Educational Initiative Internship Program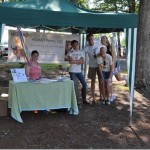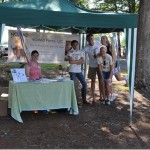 Mark Nicholson of Tobaccoville and his family operate an educational farm that incorporates rotational grazing techniques they learned while living in the Tibetan Plateau of western China. With the grant funds they will expand the educational farm tours and offer a semester long farm internship for high school aged students.
Update:  Mark & Dana Nicholson have utilized NC AgVentures funds to successfully host their first summer camp session. This initial camp was used as a trial to gage community interest and to work through the myriad of details involved in hosting an event of this magnitude.
They hired three employees, (one Public Relations and Education specialist for twenty hours a week, plus two farm interns to share the original forty hour work week as described in the application.)  They planned and executed a five-day farm tours trip to other farms and interviewed multiple farmers with education emphases in Virginia and North Carolina. They planned and executed the first one-week farm youth camp. This year's camp was June 22-26, 9 a.m. – 2 p.m., for children ages 6-12. Twenty campers participated; the camp fee was $200. The farm is on schedule to triple their meat production. Website: www.nomadfarms.org
Surry County, Agent Joanna Radford
Riverside Family Farm Corn Maze Adventure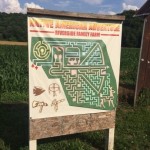 The Slate family of Mount Airy has owned and operated Riverside Farm for five generations. The family transitioned from growing tobacco to producing grains in 2010; and last year they added a corn maze. With the grant, they plan to enhance their agri-tourism business with a corn crib and a small concession building.
Update: The Slates are adding to their existing Civil War themed corn maze to attract more participants. Lumber has been ordered for the concession stand that is much needed in their growing enterprise. The lumber should be here in the next few weeks in time to begin the manual labor to build the stand. They are busy harvesting their grain crop at the current time and have a goal of this project's completion in early August.
The corn kernel sand pit is an ingenious idea. The work on this structure has begun. It is a replica of a corn crib. Advertising has been contracted and the following items are at the printers: brochures, banners, t-shirts, flyers, and signs. All printed materials have the AgVentures logo.
Since the theme is the Civil War, they have purchased re-enactment costumes to enhance the themed corn maze. These costumes (North and South) will be worn during hours of operation and at local parades and events to advertise this agri-tourism destination. The Mount Airy Chamber of Commerce is helping to publicize their business as well. The corn maze was cut on Thursday, June 25. The Slates are excited about opening Labor Day weekend.
Yadkin County, County Director Colleen Church
Alpha and Omega Corn Maze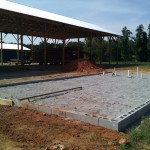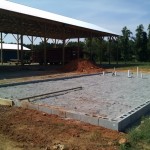 After the tobacco buy-out, the Hemric family of Hamptonville was searching for ways to diversify their farm operation. In 2013, they added an agri-tourism component and opened the Alpha and Omega Corn Maze. In addition to the maze, visitors can go for a hayride, hop aboard the barrel train or watch a pumpkin canon shoot off. The grant funds will be used to build permanent restroom facilities and a concession stand.
Update: They have obtained the building permit and septic permit. Construction is underway on the new structure to house a kitchen and bathrooms. The grading and plumbing work is complete. The footing has been dug, and block is currently being laid. They anticipate the building will be complete by the end of July.